Archive for the 'Uncategorized' Category
---
Eagle Hardwood Flooring is working throughout the COVID-19 pandemic. We want to assure our customers that we are working with caution in accordance to the latest guidelines; maintaining social distance and equipping our employees with masks, gloves and sanitizers.
The safety of our customers and crew members are of upmost importance to us. We understand the essential need our customers are facing to keep their floors clean and disinfected. Wood floors can be found harboring mold, asbestos, high VOC residues, and germs brought in from outside the home. We've introduced a new service to help our customers keep their floors disinfected! We use a professional wood floor washing machine that removes 99% of all germs and dirt. Our machine, the BONA Power Scrubber Deep Cleaning System, uses a hot water and soap mixture combined with a sanitizing solution.
We hope to help in any way we can during this challenging time.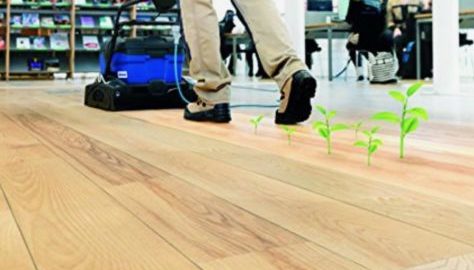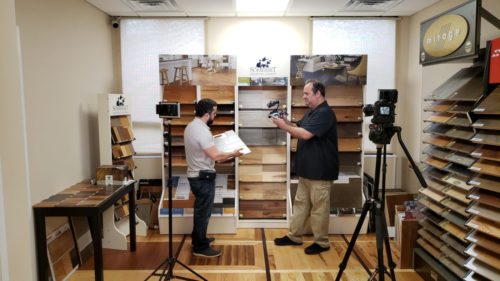 Eagle Hardwood Flooring's showroom has every type of wood flooring, stain colors, and finishes that will suit your needs.
We use environment-friendly products without VOC, we have DUSTLESS sanding, and sand-less refinishing.
We offer professional wood flooring, cleaning, and many more innovations from the wood flooring world.
Our company participates in frequent training to remain up to date with innovations in the wood flooring industry.
Thiago Lima, the owner and founder of Eagle Hardwood Flooring is a certified sander and refinisher and a certified installer credited by the National Wood Flooring Association NWFA.
Our experience and certifications make it possible for all of our products and jobs to meet all required standards and rules from the organization responsible for the wood flooring industry in America.
You will have the certainty that you are receiving a final product and flooring job that will last for a very long time.
Invest smart on your wood floors with Eagle Hardwood Flooring.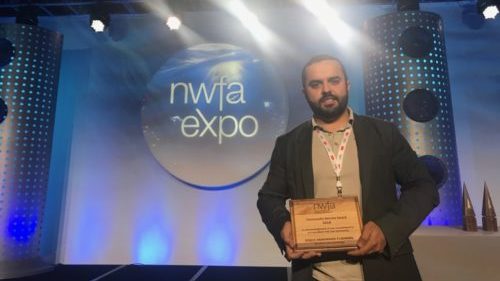 Call us to schedule a meeting at our showroom with Thiago Lima, a specialist who will blow you away with knowledge and innovations from wood flooring industry! 1-844-EAGLE-NY
Thiago is a proud certified installer and finisher recognized by the National Wood Flooring Association (NWFA). The accreditations require installers and finishers to undergo several skills and knowledge tests to be approved and recognized by the NWFA.
Thiago brings with him over 21 years of wood flooring expertise and continuously stays up to date with the wood flooring industry. Through attending courses and seminars related to new products and new application methods, Thiago is constantly building upon his ability to serve his customers. He understands the nature of all wood species, grades, and cuts and knows the right products for each type of wood floor.
Ceruse Wood Finish
To keep you up to date with the latest flooring trends, today we are introducing you to a new trending style- Ceruse Wood Finish. Ceruse Wood Finish it's basically a process of rubbing a contrasting color into the pores of the wood to highlight the patterns of the wood grain. Although we often see this type of finish with Oak, it works well with many types of wood.
How the style of Ceruse is made: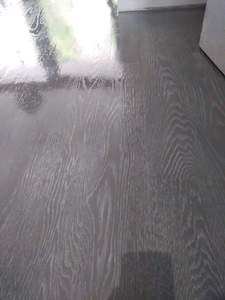 First, the chosen wood is stained with a traditional wood stain that will create a consistent color throughout. After the stain is set in, a special type of white/clear wax or paint is brushed onto the wood. When wiped off, the wax or paint stays inside of the wood grain but is removed from the surface stain on other parts. This technique reveals the natural wood pattern by contrasting the grain from the original stain color. In other words, ceruse finish is a method of finish that allows a lighter grain into a dark color stain changing the aspect of the staining process that usually gives you a darker grain. The process of cerusing wood takes time and patience if you want it done well! In earlier years, it was preferred that the wood stain was dark and the grain was white, creating a large contrast in the colors. Now, cerused wood can be found with all shades and colors of stain. Cerused line, these floors pop wherever you put them, an ingenious mix of elegance and eccentricity. Ceruse Wood finish is a technique that only a few professionals are capable of achieving good results. At Eagle Hardwood Flooring we specialize in custom textures and colors from ultra- matte to high- gloss finishes, all suitable for both residential and commercial application. Give us a call today or simply fill out the form below for more information on Ceruse finish or any other type of finish.
Should I Recoat & Refinish my hardwood Floors?
Difference between both!
Recoat
Re-coating is the process of buffing the hardwood and applying one coat of finish, this is also known as resurfacing. You may recoat your floors to completely change the color of the finish, to retexture, or to simply reapply the same finish that was already on the floor. Recoating is an expensive solution to bringing back life to a worn out finish or floors and it's normally completed in one day.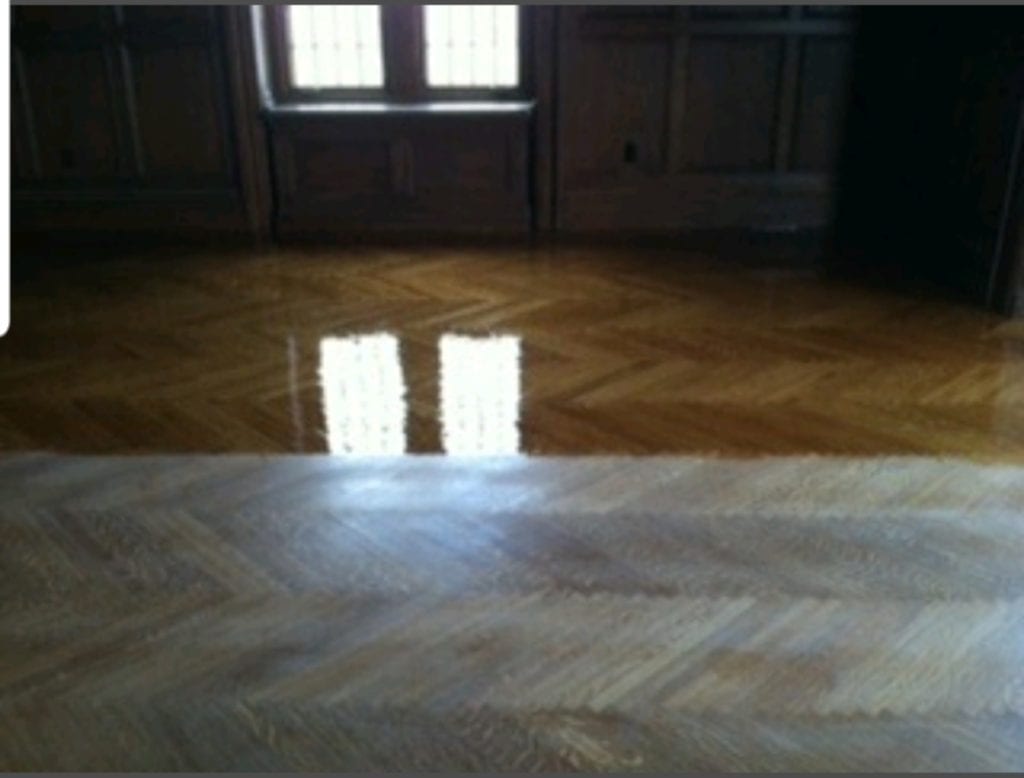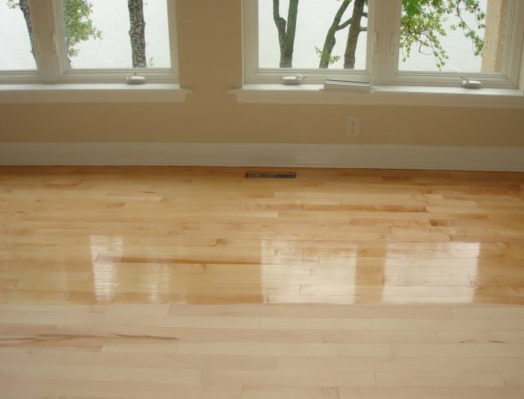 Refinishing
Refinishing is the process of sanding the wood until is bare and applying stain color or a sealer for a natural color, followed by a few coats of finish, usually either oil based or water-based polyurethane. This takes 3-4 days for a regular size home. The beauty of hardwood floors is that you can choose any color and apply to your existing hardwood floors, you can select from matte to high gloss finishes, and you don't necessarily need to replace the floors. Refinishing is an amazing process that can give you brand new floors without having to purchase new floor. This is a great news! Not only will you save money, but you can actually make money. When you refinish your floors you add value to your property and improve your ability to sell your home or business. Floors are the first part of a home or business people notice. Beautiful floors is how you can make a great first impression. Refinishing hardwood floors is easier, faster and cheaper than you might think. The results are always better than you expect. The results are always better than you think.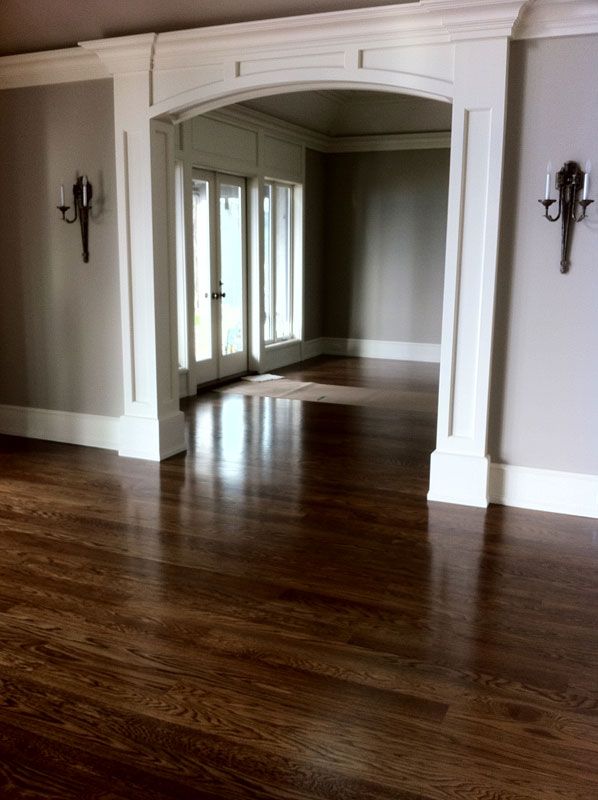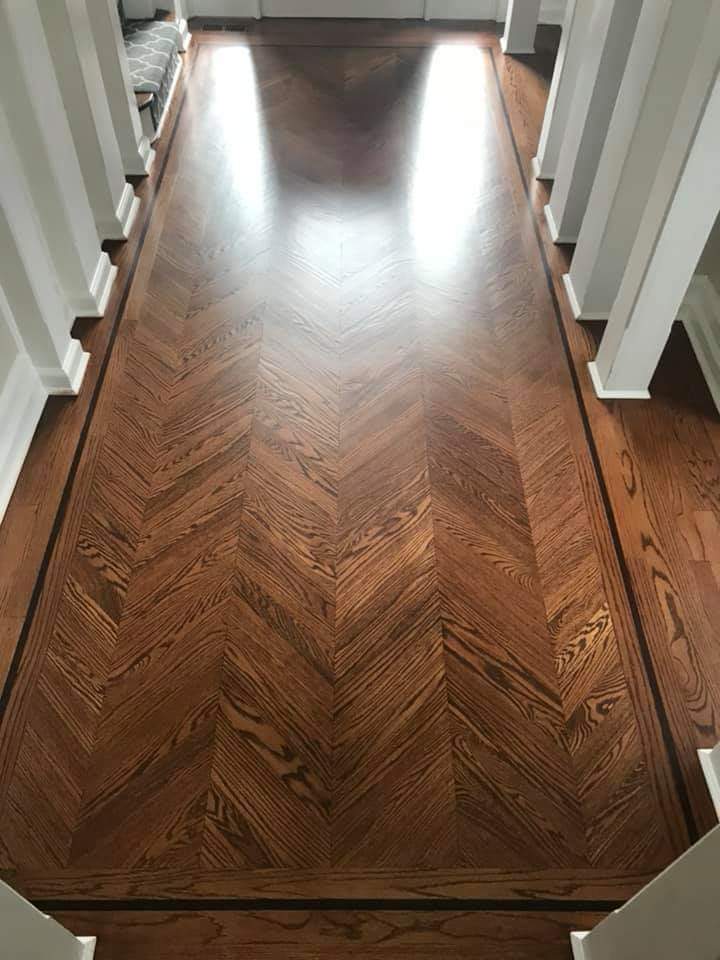 Give us a call today at 914- 438- 8778 to get started with our unique options of service or simply fill out the form bellow.
Should I do modern colors for my floors?
What is the best color for my hardwood floors?
Should I choose dark or light colors?
Should I stain or leave my floors natural?
Industry trends are frequently changing. At this time black and gray floors are in style. A few years ago white stains and a popular Ebony and Jacobean mix were all the rave. Soon the trend will shift again, so it is important to select a color that you love and provides a nice contrast between the color of your walls and trims. Eagle Hardwood Flooring recommends picking a color that is complimentary on either lighter or darker than your walls and trims.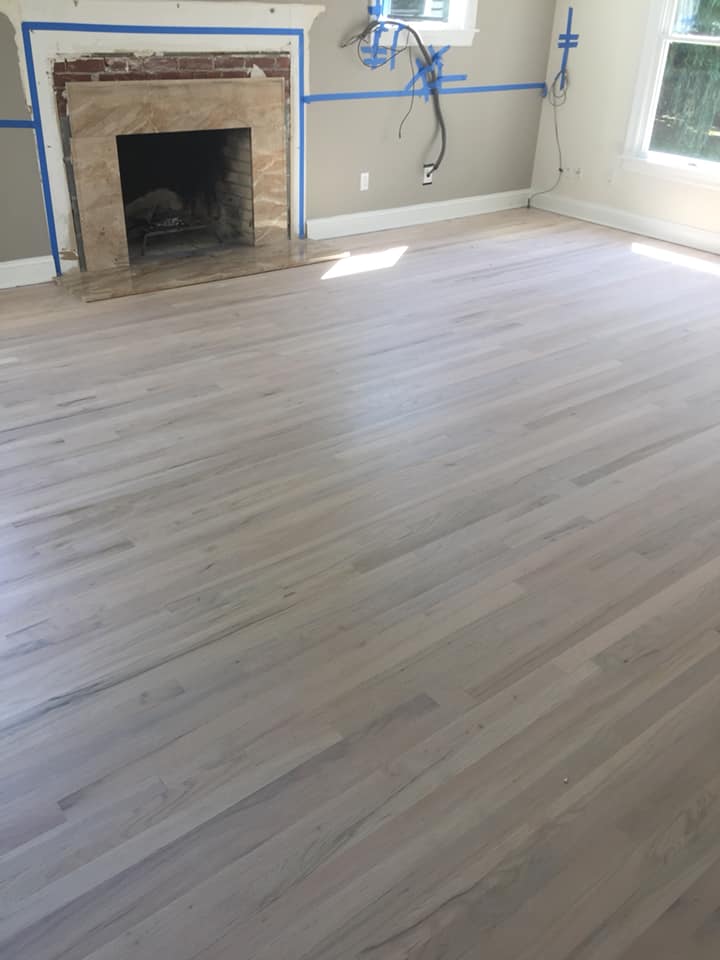 We recommend a satin finish over high gloss and semi-gloss as satin finish has been very popular. Satin finish reveals fewer scratches and the wear and tear is less obvious. For a classic look, we advise choosing a traditional color such as natural color (clear) oil or water-based finish.
Light, Medium and Dark Brown stains will always be in style.
Such as Golden Oak, Early American, Provincial and Dark Walnut.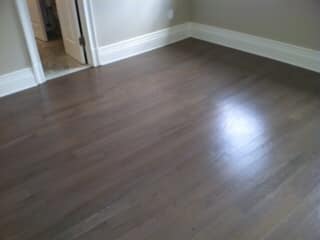 If your are unsure about your preferred style and what type of floors you desire, check out décor, websites and magazines.
When browsing, focus on pictures that have similar furniture and wall colors to your own home.
Consulting with and interior designer may also be a great place to start.
With 19 years of experience, at Eagle Hardwood Flooring we have seen it all the good and the bad choices. We hope this article can help you and your home. Call us at
(914) 438-8778
, or fill out the form below to get a consultation with our wood floor professionals. To achieve your desired shade of gray, blonde, or dark hardwood floors we can test multiple stain combinations on your hardwood floors, and we provide samples of finishes and wood types. Eagle will help you complete the home of your dreams.
What hardwood color should you choose?

Hardwood floors have been known to give your home a sense of warmth, coziness, and cleanliness. The top flooring color trends for 2017 are gray, blonde, and dark. With so many choices, how do you choose? To help you decide which hardwood flooring color is perfect for you home, here are the breakdowns of each color.
Gray Hardwood Floors
If you've spent any time at all researching home décor lately, you may have noticed that gray is everywhere. With gray hardwood flooring and white cabinets becoming an increasingly popular combination, you might be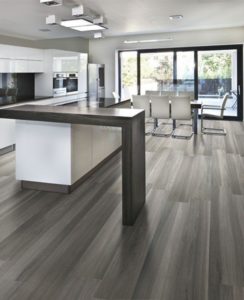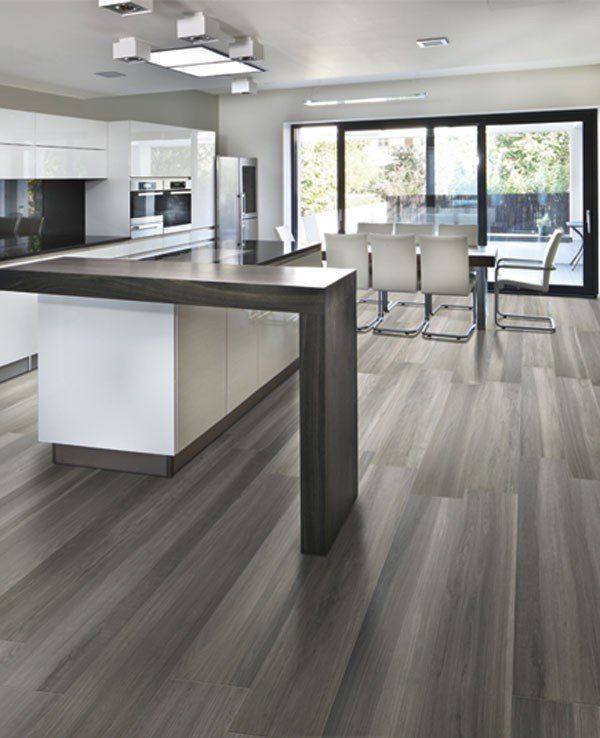 considering incorporating this look in your own space. Gray hardwood floors can be used to create different atmospheres and visual effects, it can provide a backdrop for decorating your space with different colors, and it can give a feeling of peace and stability.
Our tips for gray hardwood floors
If you are starting out your home improvement/building project from scratch or plan on reinstalling hardwood floors, you can use pre-finished gray hardwood.
If you already have hardwood floors in your space, you can achieve the gray finish by using a stain that uses white wash to achieve that shade.
Once you have decided on your perfect gray shade, we recommend that you use a water based poly instead of an oil based poly to better preserve the gray color.
Blonde Hardwood Floors
Bright, beautiful blonde hardwood floors are the perfect addition to add warmth to your space. Pairing blonde woods with dark walls or dark furniture will give your space a modern look. Light color walls and furniture with light color floors will make the room appear larger and give the sense of more space. There are different types of wood you can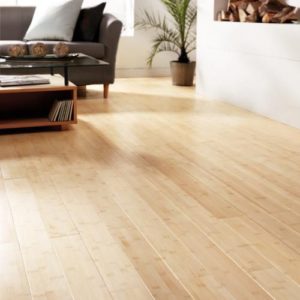 choose, below are our recommendations.
Our tips for blonde hardwood floors:
Bamboo is the light hardwood floor that we recommend, it is easy to care for, moisture resistant, and durable. Bamboo hardwood floors will make your room look stylish and elegant.
Other types of wood that are used to achieve a light color are maple and birch. We offer samples of different wood types that will help you make the right choice.
Dark Hardwood Floors
Dark hardwood floors are bold and have become very popular to give your home a sense of luxury. The dark color makes floors look sleek and very classic. You can achieve this look by using darker wood types or by using different finishes.
Our tips for dark hardwood floors:
If you have a large or open room, dark floors will look great. This color is also a great choice for commercial spaces, it will make your floors look smooth and shiny.
You can contrast this color by using light colored walls and furniture. Or you can use dark or gray cabinets, and finish the look with white or light counter tops.
If you are concerned that dark colors show dirt and scratches more, we recommend using a satin finish to minimize their appearance.
We can show you samples of different finishes to help decide how dark you'd like to go.
If you are interested in incorporating these looks into your home, call us at
(914) 438-8778
, or fill out the form below to get a consultation with our wood installation professionals. To achieve your desired shade of gray, blonde, or dark hardwood floors we can test multiple stain combinations on your hardwood floors, and we provide samples of finishes and wood types. Eagle will help you complete the home of your dreams.
Unfinished vs Prefinished Hardwood Flooring
Deciding between Unfinished Hardwood or Prefinished Hardwood Floor can be difficult. To help you decide which type of wood flooring is right for you home, here are some helpful information.

Two Main Types of Hardwood Flooring
Wood Floors can be broken down into two main categories, prefinished and unfinished. Both floorings have their unique advantages and drawbacks, so it is important for you to educate yourself on each. Both hardwood floor types can provide a beautiful look to your home décor; however
only you will know what's right for your house.
When to choose Pre-finished
If you are installing the wood flooring in an existing home, pre-finished flooring is generally easier to install.
Pre-finished wood works better in areas that receive high traffic and heavy wear and tear because it provides a more durable finish.
If you are trying to avoid fumes and a big mess, pre-finished flooring is cleaner to install.
If cost is a concern, pre-finished flooring is typically less expensive.
If you are installing the floor in a room with high humidity, pre-finished flooring resists buckling and warping and is suitable for changes in climate.
If you are looking for a fast and easy installation, pre-finished flooring is the choice to make.
If you are looking to use engineered wood, most come pre-finished.
When to choose Unfinished
When trying to match to an existing floor or trim, unfinished wood is generally easier to stain to match.
If you are having the floors installed throughout your entire home, having the floor finished on site will provide a more uniform color and finish.
If you are looking for an unusual wood species or specific plank width, unfinished wood flooring offers the most options.
Unfinished flooring would be most appropriate if your home has historical significance or if you are trying to maintain the architectural integrity of it.
If your floor is not precisely level, you may opt for unfinished flooring because it doesn't depend on a precisely level subfloor the way a pre-finished floor does.
If you are still unsure as to which type of wood flooring to choose, call our office at (914) 438-8778 or fill out the form below to get a consultation with our wood installation professionals. Ask about the different types of wood flooring. We can bring samples of different finishes and wood types so that you can see them. Samples would allow you to visualize the flooring with the lighting in your home and with your furnishings.
Introduction to Oak Flooring: What's so great about Oak?
Do you want to get oak flooring at home in Westchester County? Or are you simply wondering "What's with all the fuss about oak flooring?" Then read this article.. you'll find out what makes oak flooring so great for homes and offices and you'll also find out how to choose the best type of oak flooring for your project. Oak is the most popular choice of hardwood flooring in the United States in general. Oak is a very practical choice for hardwood flooring as it is a very durable wood that can last well over 100 years. It is very affordable when compared to other species of wood that are used for hardwood flooring and quite versatile as it can be stained almost any color of the rainbow.
What is the Difference Between White Oak vs Red Oak Hardwood Floors? Which one is better?
Most obviously color, Contrary to what the name suggests, White Oak is a darker wood than Red Oak. The color of White Oak is a mix of browns and tans ranging from dark brown to beige, while Red Oak is a lighter wood that ranges from almost white to a soft amber color. Red Oak has pinkish tones and red hues throughout. Either can be stained any color. Lighter stains and white washes on Red Oak will have a reddish or pinkish undertone to the color. Because White Oak is a darker wood, the same color stain applied to both Red and White Oak flooring will be darker on the White Oak floor than it is on the Red Oak floor.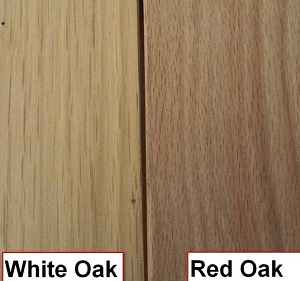 HARDNESS
– White Oak is a slightly harder wood than Red Oak. On the Janka hardness scale, White Oak flooring scores a 1360 and Red Oak flooring a 1290. White Oak is also very dense, which makes it more suitable for outdoor furniture and boat building. Some claim that the density of White Oak makes it a more stable species (less seasonal movement) than Red Oak, but both types of hardwood flooring will have some seasonal movement. Both Red and White Oak flooring are excellent choices for long-term durability for most home.
GRAIN PATTERN
– Red Oak grain patterns tend to be more unique or "wild" than the finer, less pronounced grain pattern common to White Oak. The grain in White Oak runs straighter and tighter than Red Oak, with fewer swirls, circles or deviations. Red Oak also has wider grain lines that can run in zigzag patterns, or subtle, wavy lines that are absent from White Oak. Another Reason that Red Oak flooring displays a more prominent grain pattern than White Oak is because it is a lighter wood than White Oak. And on the other hand, the smoother look of White Oak can also be attributed to the fact that the dark grain is less noticeable against the darker wood.
MATCHING EXISTING ACCESSSORIES
– Red Oak is far more frequently used in stair treads, Newel posts, handrails and banisters. If you have Oak stair treads already in your home that you need to match, chances are good that they are Red Oak. If you are installing new treads or railings in your home, White Oak will be slightly more costly since it is less commonly used, but not severely so.
ENVIRONMENTAL IMPACT
– Both Red and White are considered to be a "greener" use of a National natural resource because they are farmed and grown in the United States. The carbon footprint of both types of wood is lower than that of exotic wood species like Brazilian Cherry or Tigerwood, for example, and because of forestry protection programs, Oak trees are constantly being replanted here in the U.S.
PRICE
– There is not a major difference between the price of Red and White Oak. Because unfinished hardwood flooring is commodity item, the price fluctuates from week to week. At times Red Oak is more expensive , and sometimes White Oak cost more. The price will also vary based on width of the boards and grade of the wood.
Oak Flooring versus other types of flooring- What's so great about Oak?
Oak has been the traditional choice for flooring materials for centuries, and there is no wonder why our ancestors loved this material. Oak flooring was used in elegant castles and rustic homes, and is in huge demand even in our days. Why? Oak flooring has an incredibly beautiful natural color to it. On top of that, it is very durable. For example, to prove that oak can last a life time, have a look at some of the 20th century homes that still have the original oak flooring to them… and that hardwood is in perfect condition. Oak is also very hard. It is the wood that sets the standards to hardness, and it is used very often as a comparison point when rating other types of wood in terms of hardness. At Eagle Hardwood Flooring our hardwood experts can advise you as to which would be best for any particular color or finish. If you are matching an existing floor in your home, please be aware that there is more to matching hardwood than determining whether or not you have Red Oak or White Oak! It is a bit more complex that that, as there are several different grades of hardwood flooring as well as different milling techniques, to be aware of as well! If you are unsure of what type of hardwood floor you have or what would be the best for your home, call
(914) 438-8778
us or simply fill out the form bellow and get it right the first time around.
Solid vs Engineered Hardwood Flooring
Hardwood floors is an easy way to improve the look, durability and value of your home. Learn more about the types of hardwood floor and what you should take into consideration when choosing this type of flooring for your home. We frequently receive questions from customers regarding what's the best option to choose from: Solid or Engineered? So today we'll shed some light in some questions for you, paying particular attention to issues related to flooring in the Westchester County area. Q: What type of wood floor is right for my home? Solid or Engineered Hardwood?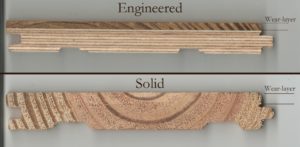 Solid Wood Flooring
Is exactly what the name implies. "A solid piece of wood from top to bottom". The thickness of wood flooring can vary, but generally ranges from 3/4 "to 5/16". Solid wood can be used in any room that is above ground. One of the many benefits of solid wood flooring is that it can be sanded and refinished many times. Solid wood floors are ideal in family/living/dining rooms, bedrooms, and even kitchens and powder room. About the only place you can't use solid wood flooring is in the basement, but there's a solution for that area too.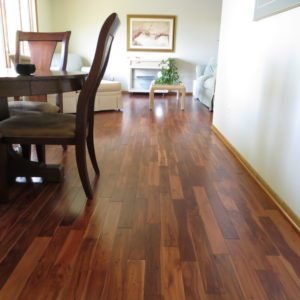 Engineered wood flooring
Are real wood floors that are manufactured using multiple layers of wood veneers. The layers that you can't see, can be of the same species, or of different species. The grain of each layer runs in perpendicular directions, which makes it very dimensionally stable. This means that the wood will expand and contract less than solid wood flooring during fluctuations in humidity and temperature. Engineered floors can be nailed or stapled to a wood subfloor, or glued down to a wood or concrete subfloor. This makes engineered floors ideal for slab and basement installation, and they can be used in any room above or below ground. While this type of flooring can be sanded and refinished, it cannot be done as many times as solid wood flooring.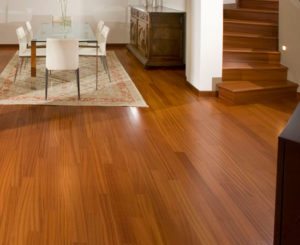 Q: Which wood species wood is right for my home?
Choosing the right species of wood flooring for you is strictly a matter of your style, budget and personal preference. More than 50 domestic an imported species of wood flooring are available to achieve a unique look. * Light woods like Ash or maple make a room appear more open and airy. * Medium wood like hickory or oak make a room appear more warm and cozy. * Dark wood like walnut or mahogany make a room appear more stately and refined. * Imported species can offer even more color options.
Q: My floors are very old, is refinishing my best option?
– Refinishing Is a great way to restore old or extremely worn hardwood floors. It removes most stains and damage, and gives dull or discolored floors new life. If your floor has been subject to years of heavy foot traffic or you've fallen behind the recommended recoating schedule, refinishing is the most cost effective way to have a lackluster floor looking its very best. At Eagle Hardwood Flooring we are dedicated to providing our clients with hardwood floor refinishing services of superior quality at the lowest prices possible.
Q: What are the color choices to choose when getting my floors refinished ?
One of the thing that makes hardwood such an excellent choice is the variation colors available. No matter what décor is going in your home, there's many options of hardwood colors to go with it. Natural Color – A hardwood floor can be sealed with a protective clear finish that showcases the natural appearance of the wood. Stained Color- An almost endless of number of looks can be created through the application of a colored stain to hardwood floor. Light, Medium and Dark Colors- Some home owners will categorize their flooring finishes in terms of light, medium and dark color. Give us a call today at 914- 438- 8778 we can answer any questions and concerns you have regarding your hardwood floors. For a free estimate simply fill out the form bellow.