Deck and Porch Restoration
Wood Deck and Porch Refinishing
Wood Decks and Porches are distinctive outdoor living rooms that incorporate natures beauty and add value to your home and quality of life. The unique appearance and characteristics of wood species such as Ipe, Redwood, Treated Pine, Teak, Cumaru, Cedar, and Mahogany make them perfect for creating these magical outdoor living spaces.

Restoration Technique
We begin our refinishing process by cleaning the wood to remove surface contaminants such as dirt, mold, algae and previous coatings. Old coatings can be tough to remove from outdoor decks and porches and may need additional cleaning techniques to help break them down. The wood will need to go through a drying period before it is ready for the next step, sanding. Wood type an climate will determine how fast the wood will dry. Sanding is the next step in our deck or porch refinishing process. Sanding will not only remove remaining contaminants, cleaning doesn't quite eliminate, it also exposes fresh new wood, opens the grain and smooths the surface all in one. Through sanding is the most crucial step in refinishing and also the most skipped because it is very difficult; but absolutely necessary. The wood needs to be cleaned after sanding to remove residual dust and contaminants from the grain. We clean with wood brightener to remove dust, eliminate contaminants and promote the natural color , all in one. Wood brightener also helps prevent unwanted growth of black mold, algae and mildew. Extensive preparation is the only way to ensure optimal results. The final step is application of the protecting coating. For your specific wood type, we will ensure that you'll get the look and color you are trying to achieve, we'll use the best protective coating. We use fine oil base sealers for all types of outdoor wood flooring. Water base products are also available for outdoor wood flooring, we use can use solid stains for a clean even look for almost any wood type. We apply all four coatings by brush to ensure each and every piece of wood receives maximum penetration and saturation.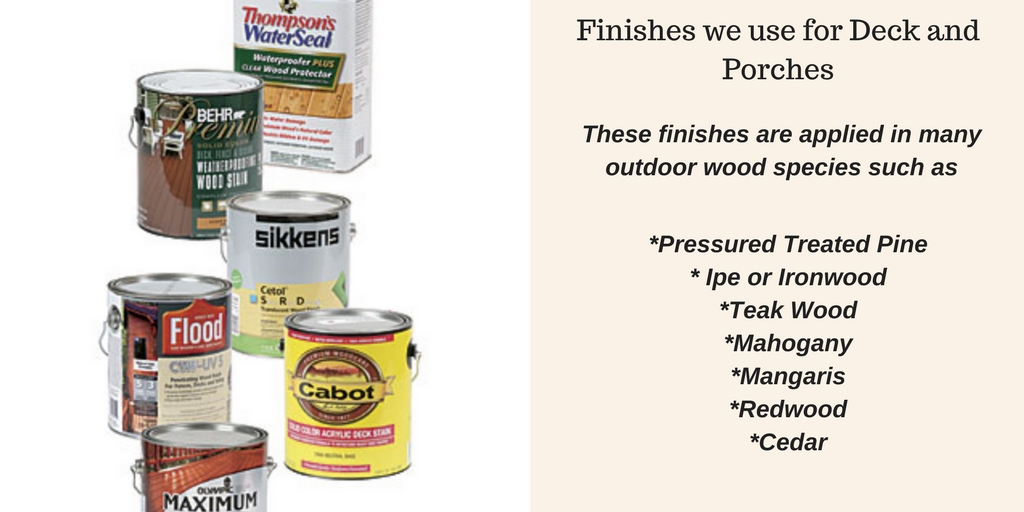 Maintenance After Refinishing You Deck or Porch
Proper maintenance begins with a visual inspection. A time frame of 4 to 10 months can be used to get a general sense frequency. However, as weathering exposure. Wood type may vary, maintenance might be needed sooner and should be performed when visually necessary regardless of timeframe. The best way to keep you deck and porch with a nice finish and looking great is with a periodic cleaning (wash and wax). They need to be cleaned and recoated to protect them from damage. If you are a home and have become frustrated with the look and performance of your deck and porch, don't worry! You've come to the right place. We have mastered refinishing and maintenance techniques for each specific wood type used in modern building. Please contact us at 914-438-8778 or fill out the form below.