Ceruse Wood Finish
To keep you up to date with the latest flooring trends, today we are introducing you to a new trending style- Ceruse Wood Finish. Ceruse Wood Finish it's basically a process of rubbing a contrasting color into the pores of the wood to highlight the patterns of the wood grain. Although we often see this type of finish with Oak, it works well with many types of wood.
How the style of Ceruse is made: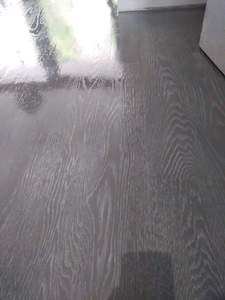 First, the chosen wood is stained with a traditional wood stain that will create a consistent color throughout. After the stain is set in, a special type of white/clear wax or paint is brushed onto the wood. When wiped off, the wax or paint stays inside of the wood grain but is removed from the surface stain on other parts. This technique reveals the natural wood pattern by contrasting the grain from the original stain color. In other words, ceruse finish is a method of finish that allows a lighter grain into a dark color stain changing the aspect of the staining process that usually gives you a darker grain. The process of cerusing wood takes time and patience if you want it done well! In earlier years, it was preferred that the wood stain was dark and the grain was white, creating a large contrast in the colors. Now, cerused wood can be found with all shades and colors of stain. Cerused line, these floors pop wherever you put them, an ingenious mix of elegance and eccentricity. Ceruse Wood finish is a technique that only a few professionals are capable of achieving good results. At Eagle Hardwood Flooring we specialize in custom textures and colors from ultra- matte to high- gloss finishes, all suitable for both residential and commercial application. Give us a call today or simply fill out the form below for more information on Ceruse finish or any other type of finish.