Solid vs Engineered Hardwood Flooring
Hardwood floors is an easy way to improve the look, durability and value of your home. Learn more about the types of hardwood floor and what you should take into consideration when choosing this type of flooring for your home. We frequently receive questions from customers regarding what's the best option to choose from: Solid or Engineered? So today we'll shed some light in some questions for you, paying particular attention to issues related to flooring in the Westchester County area. Q: What type of wood floor is right for my home? Solid or Engineered Hardwood?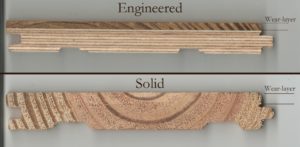 Solid Wood Flooring
Is exactly what the name implies. "A solid piece of wood from top to bottom". The thickness of wood flooring can vary, but generally ranges from 3/4 "to 5/16". Solid wood can be used in any room that is above ground. One of the many benefits of solid wood flooring is that it can be sanded and refinished many times. Solid wood floors are ideal in family/living/dining rooms, bedrooms, and even kitchens and powder room. About the only place you can't use solid wood flooring is in the basement, but there's a solution for that area too.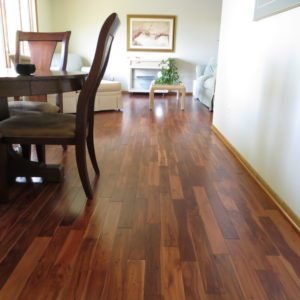 Engineered wood flooring
Are real wood floors that are manufactured using multiple layers of wood veneers. The layers that you can't see, can be of the same species, or of different species. The grain of each layer runs in perpendicular directions, which makes it very dimensionally stable. This means that the wood will expand and contract less than solid wood flooring during fluctuations in humidity and temperature. Engineered floors can be nailed or stapled to a wood subfloor, or glued down to a wood or concrete subfloor. This makes engineered floors ideal for slab and basement installation, and they can be used in any room above or below ground. While this type of flooring can be sanded and refinished, it cannot be done as many times as solid wood flooring.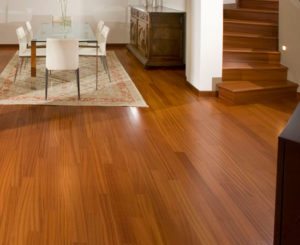 Q: Which wood species wood is right for my home?
Choosing the right species of wood flooring for you is strictly a matter of your style, budget and personal preference. More than 50 domestic an imported species of wood flooring are available to achieve a unique look. * Light woods like Ash or maple make a room appear more open and airy. * Medium wood like hickory or oak make a room appear more warm and cozy. * Dark wood like walnut or mahogany make a room appear more stately and refined. * Imported species can offer even more color options.
Q: My floors are very old, is refinishing my best option?
– Refinishing Is a great way to restore old or extremely worn hardwood floors. It removes most stains and damage, and gives dull or discolored floors new life. If your floor has been subject to years of heavy foot traffic or you've fallen behind the recommended recoating schedule, refinishing is the most cost effective way to have a lackluster floor looking its very best. At Eagle Hardwood Flooring we are dedicated to providing our clients with hardwood floor refinishing services of superior quality at the lowest prices possible.
Q: What are the color choices to choose when getting my floors refinished ?
One of the thing that makes hardwood such an excellent choice is the variation colors available. No matter what décor is going in your home, there's many options of hardwood colors to go with it. Natural Color – A hardwood floor can be sealed with a protective clear finish that showcases the natural appearance of the wood. Stained Color- An almost endless of number of looks can be created through the application of a colored stain to hardwood floor. Light, Medium and Dark Colors- Some home owners will categorize their flooring finishes in terms of light, medium and dark color. Give us a call today at 914- 438- 8778 we can answer any questions and concerns you have regarding your hardwood floors. For a free estimate simply fill out the form bellow.